When you buy kratom capsules from Legit Kratom, you'll get premium quality kratom capsules. Each kratom capsule is size 00 (650 mg per capsule). Kratom capsules are one of the most popular products on the market and are a favorite among those purchasing kratom for the first time. Kratom capsules are also one of our best-selling products, and the reviews we get from customers are consistently exceptional.
Why Buy Legit Kratom Capsules?
Third-Party Lab Testing: We test for pathogens, heavy metals, identity, and concentration of alkaloids.
Satisfaction Guarantee: We stand behind every product we sell with a 30-day satisfaction guarantee!
Ingredients: Mitragyna Speciosa Leaf Powder


Legit Kratom Capsules
Our premium-quality kratom capsules are a highly recommended option. Kratom capsules are among the most popular kratom products on the market and are a favorite among new kratom customers.
Why choose Legit Kratom Capsules?
We source all of our kratom directly from farms in Southeast Asia, giving us complete control over the production process from start to finish. We take quality control very seriously, which is why we stand behind the kratom capsules we sell.
How is the kratom powder that goes into our capsules produced?
After the kratom leaves are skillfully harvested, they get washed thoroughly and undergo a unique drying process before being ground into a fine powder.
Each strain color goes through a slightly different drying process.
Red Kratom: Our Red Kratom spends the most time under UV light (indoor UV lamps or outside sunlight), resulting in a much darker color than any other kratom.
Yellow/Gold Kratom: Our Yellow/Gold Kratom spends a lot of time under UV light, but part of the drying away from any heat or UV light.
Green Kratom: Our Green Kratom spends a short period under UV light, with most of the drying time away from heat or UV light.
White Kratom: Our White Kratom spends a brief amount of time under UV light, which results in a much lighter shade of kratom.
Once the leaves are thoroughly dried, they get ground up into a very fine powder near the consistency of flour.
The Legit Kratom Difference
We supply only premium-quality kratom powder and kratom capsules. Our unique sourcing processes and relationships with suppliers allow us to guarantee the quality of the product shipped to you fast.
Fast shipping on all orders
Sourced directly from farms in Southeast Asia
30-day satisfaction guarantee
Excellent customer service
Premium-quality Kratom Capsules
Third-Party Lab Tested Kratom
Lab Tested Kratom
We believe that we sell the best kratom capsules on the market, which is why we hold them to the highest standards, including third-party lab testing. We get every batch tested for pathogens and heavy metals, but we don't stop there. We also get lab tests to confirm the identity of the plant and the concentration of alkaloids present. The testing process ensures that the kratom that goes into our capsules is the purest, most consistent possible.
30 Day Satisfaction Guarantee
Legit Kratom is committed to customer satisfaction. If you are unsatisfied with your kratom purchase, you can exchange it or return the unused portion, and you'll receive a refund with no questions asked.
For kratom capsules shipping details, please visit https://legitk.com/kratom-shipping/
Additional information
| | |
| --- | --- |
| Weight | 1.9 oz |
| Dimensions | 6 × 4 × 1 in |
| Strain | Green Borneo, Green Maeng-Da, Green Malay, Red Borneo, Red Maeng-Da, Super Green Thai, White Borneo, White Maeng-Da, White Sulawesi |
| Capsule Quantity | 70ct, 150ct |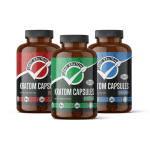 Buy Kratom Capsules
Your review
* Review is required
Email
* Email is required
Add photos or video to your review
Legit Kratom is committed to customer satisfaction. If for whatever reason you are not satisfied with your purchase, you can return the unused portion for an exchange or get a refund for the amount that was returned to us.
Returns must be received within 30 days of purchase. Customers are responsible for return shipping and we require that a trackable form of delivery is used.
Please contact us before returning any items, so that we can provide you with an RA# (Return Authorization Number). This number should be placed on the outside of the package, so our receiving department knows how to handle it upon arrival.
If you have any questions or concerns, please feel free to email [email protected] anytime or call us at 727-386-5264, Monday through Friday from 10:00 AM to 4:00 PM EST.